Try Our Specialty Beers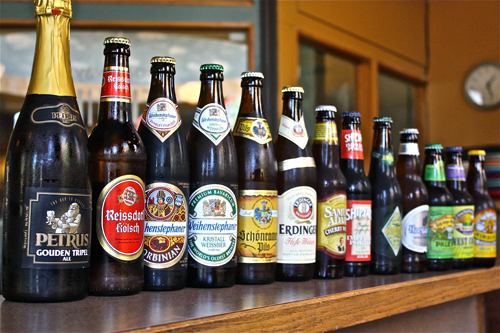 Beer on Tap
Sierra Nevada Seasonals
14 oz. Glass………..$4.25
23 oz. Glass……$6.50
60 oz. Pitcher……….$15.00
Bud Light, Corona and Sierra Nevada Pale Ale      $4.50
Hoegaarden White Beer
Belgium, 11.2oz., 4.9%, $5.50
Very refreshing.  A naturally cloudy, medium body beer with a subtle hint of coriander and orange peel.
Dubhe Imperial Black IPA
Utah, 12 oz., 9.2%, $6.25
This beer is bold and not for the faint in heart. It's black as night with its toasted chocolate malt and hops for IPA lovers.
Deschutes Fresh Squeezed IPA
Oregon, 12 oz., 6.4%, $5.75
The aroma and flavor of this IPA comes from a healthy heaping of Citra and Mosaic hops balanced by 3 malts.
Grimbergen Blonde Ale
Belgium, 11.2 oz., 6.7%, $5.95
The nose of this beer foreshadows the fruity-tang and malt balance unveiling a light, full body flavor.
Xingu Black Lager Beer
Brazil, 12 oz., 4.7%, $5.95
This Brazilian beauty has a smooth full body with hints of creamy tart malt flavors.
Weihenstephaner Korbinian Doppelbock
Germany, 16.9 oz., 7.4%, $7.50
From the world's oldest brewery comes this full-bodied German Beer that has a dark, malted, honey taste.
Weihenstephaner Kristall Weissbier
Germany, 16.9 oz., 5.4%, $7.50
Crystal wheat beer with smooth and refreshing tones of smoky clove.
Cherry Wheat
Sam Adams, 12 oz., 5.35%, $4.95
A sweet and refreshing beer that is light on the palate but long with complexity. Try it with a salad!
Carnegie Stark-Porter
Sweden, 12 oz., 5.5%, $7.25
This Baltic Porter has a black color and a smooth full body of chocolate and coffee. The perfect blend of sweet and bitter.
Organic Acai Berry Wheat
California, 12 oz., 4%, $5.75
A light bodied wheat ale brewed with Organic Acai berries from Brazil combined with 4 other flavorful, organic berries.
Crispin Honey Crisp Cider-Gluten Free
California, 22 oz., 6.5%, $7.95
Experience this hand-crafted, super-premium hard apple cider smothered with organic honey for a rich, creamy taste.
Erdinger Hefe-Weizen
Germany, 16.9 oz., 5.3%, $7.50
This traditional, bottle fermented wheat has a light body and citrus nose. Refreshing with lemon overtones.