Try Our Specialty Beers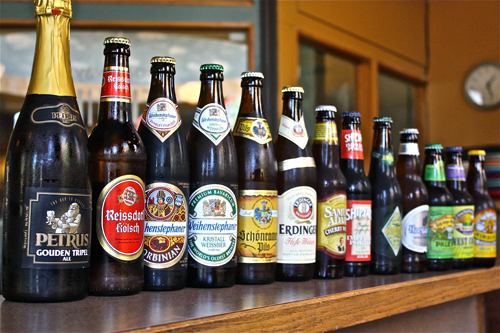 Hoegaarden White Beer
       Belgium     11.2oz     4.9%                $4
Very refreshing.  A naturally cloudy medium body beer with a
sudden hint of coriander and orange peel.
Cherry Wheat  Sam Adams
       MA     12oz     5.35%                 $4.25
A sweet, refreshing beer that is light on the palate but long
with complexity.  Try it with a salad!
Grimbergen Blonde Ale
Belgium     11.2oz    6.7           $4.50
The nose of this beer foreshadows the fruity-tang and malt balance.
When the effervescence settles, the light full body flavor is unveiled.
Xingu Black Lager Beer  (Shin-Goo)
Brazil   12oz   4.7%    $4.50
This Brazilian Beauty has a smooth full body with hints of
creamy tart malt flavors.  Very Drinkable.
Weihenstephaner Korbinian Doppelbock
Germany     16.9oz     7.4%                    $5.50
From the worlds oldest brewery comes this full bodied German
beer that has a dark malted honey taste.
Weihenstephaner Kristall Weissbier (Wine-Stefah-ner)  
Germany     16.9oz    5.4%           $5.50
This German crystal wheat beer is smooth and refreshing
with tones of smokey clove.
 West Coast IPA
San Diego CA     12oz      7%                     $4.75
A menagerie of hops added throughout the brewing process imparts
this IPA with a truly unique layered character.
Carnegie Stark-Porter
Sweden    12oz     5.5%               $6.25
This Baltic Porter, vintage 2006, has a deep black color and a smooth
full body with layers of chocolate and coffee. This well-rounded balanced
flavor of sweet roasted malt and bitter makes this gem a must try!
Organic Acai Berry Wheat
California   12oz   4%          $4.5
A light bodied wheat ale brewed with Organic Acai berries from Brazil
and a flavorful mix of four other organic berries.
 Dubhe Imperial IPA
Utah    12oz    9.2%           $6.25
This beer is bold and not for the faint in heart.  It's black as night with its toasted                                            chocolate malts and with enough hops to satisfy a true IPA lover.
Erdinger Hefe-Weizen
Germany    16.9oz    5.3%              $5.50
This traditional bottle fermented wheat has a cloudy light body with a
citrus nose.  Refreshing 'round mouth' feel with clean lemon overtones
leaving ever so slight bitterness and a desire for more.
Beer on Tap
Sierra Nevada Seasonals
14 oz. Glass………..$4.50
23 oz. Glass……$6.75
60 oz. Pitcher……….$16.00
Bud Light, Corona and Sierra Nevada Pale Ale      $3.75